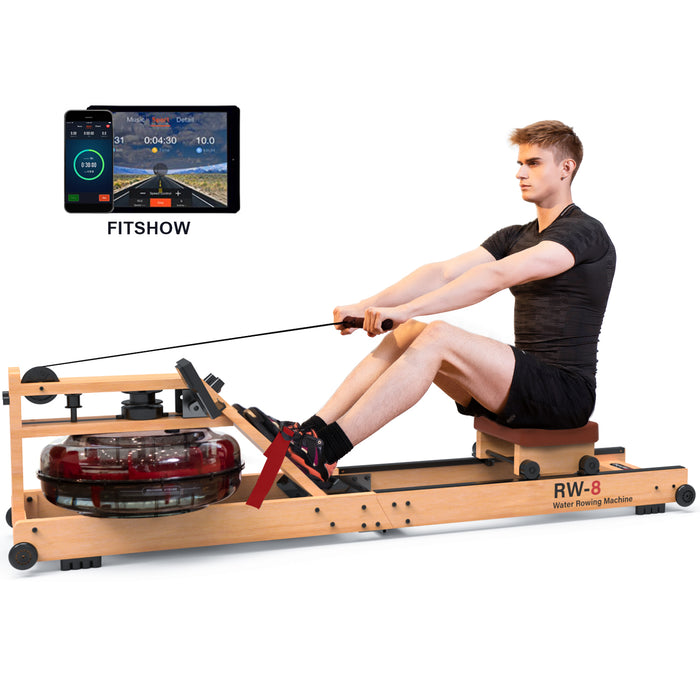 SNODE RW-8 Water rowing machine
Save

30

%
Save

30

%
Original price
9.999,99 kr
Original price
9.999,99 kr
-
Original price
9.999,99 kr
Original price
9.999,99 kr
Current price
7.000,00 kr
7.000,00 kr
-
7.000,00 kr
Current price
7.000,00 kr
Incl. VAT
The unique thing about a water rowing machine is that the resistance is created by rotating an "oar" in a closed tank of water.
If the user wants more resistance, they simply have to pull harder and faster - just like in a real boat.
This type of rowing machine thus gives a very natural feeling of being in a real rowing boat, and so rowing machines are something close to the most ultimate training for burning fat!

The machine's frame is made of wood and therefore fits well into most homes. In addition, it can be folded in half or raised in a vertical position so that it takes up as little space as possible when not in use - a huge advantage!
Because it uses water as resistance, it makes significantly less noise than rowing machines that use air as resistance.
However, the overall difficulty can be adjusted (think of this as the weight of the boat) by changing the water level in the tank:
Children: 12-14 litres
Adults: 14-18 litres
We recommend that you add a little chlorine to the water so that bacteria does not form.
Specifications:
Dimensions LxWxH: 196x50x48 cm.
Material: Wood (frame).
Foldable: Yes
Weight: 30 kg
Max. personal weight: 130 kg
Display: Time, Distance, Speed, Pulse, Number of Strokes
Can be connected with Bluetooth to the FitShow app.
You can read more about rowing machines here .
We also have other rowing machines .