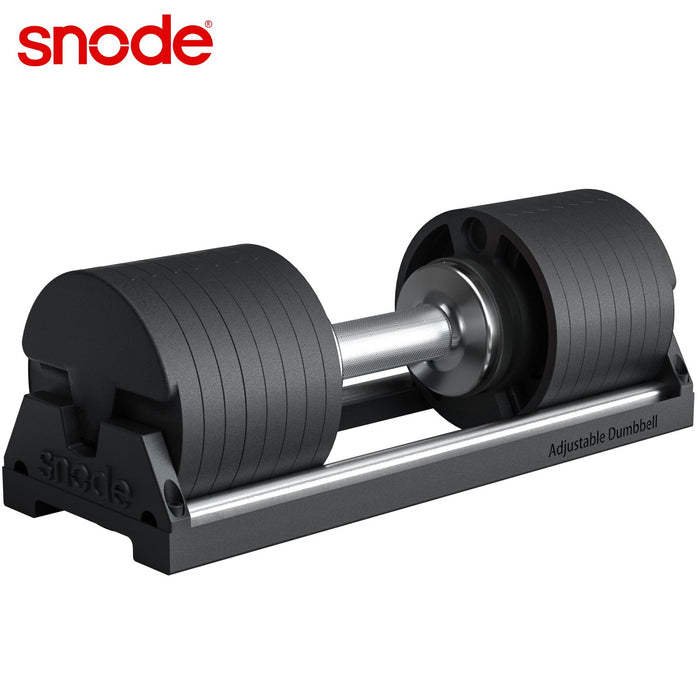 SNODE AD-6-40 KG Adjustable Dumbbell 1x40 kg (1 pc.)
Save

0

%
Save %
Original price
2.749,00 kr
-
Original price
2.749,00 kr
2.749,00 kr
-
2.749,00 kr
Current price
2.749,00 kr
Incl. VAT
The price is for 1 piece. dumbbell 1x40 kg. Set price 2x40 kg will be DKK 5,498.
Here are the ultimate adjustable dumbbells in a new and updated version.
The long-awaited SNODE Dumbbells are finally in stock, and we are the only ones in Denmark who can offer these adjustable dumbbells that beat anything else on the market.
40 kg adjustable dumbbell, brand new model, is the latest in adjustable dumbbells.
These adjustable dumbbells are made almost entirely of metal, and are therefore extremely durable.
The high quality ensures that there are no rattling parts, just as there are no plastic parts that can easily break.
They can be adjusted in the intervals: 6 , 10.5, 15, 19.5, 24, 28.5, 33 and 40 Kg (see 22 kg model here ).
The dumbbell holder measures 48.5 cm in length and 19.5 cm in width.
Even the holders for the adjustable dumbbells are made of metal and thus feel extremely stable.
Here you get adjustable dumbbells that are significantly better than anything else on the market right now.
SNODE Dumbbells are ideal as a replacement for fixed dumbbells and can easily be used in associations with many members.
InnoFitness is a dealer in Europe of these professional adjustable dumbbells.
Stands for the adjustable dumbbells can also be purchased here .