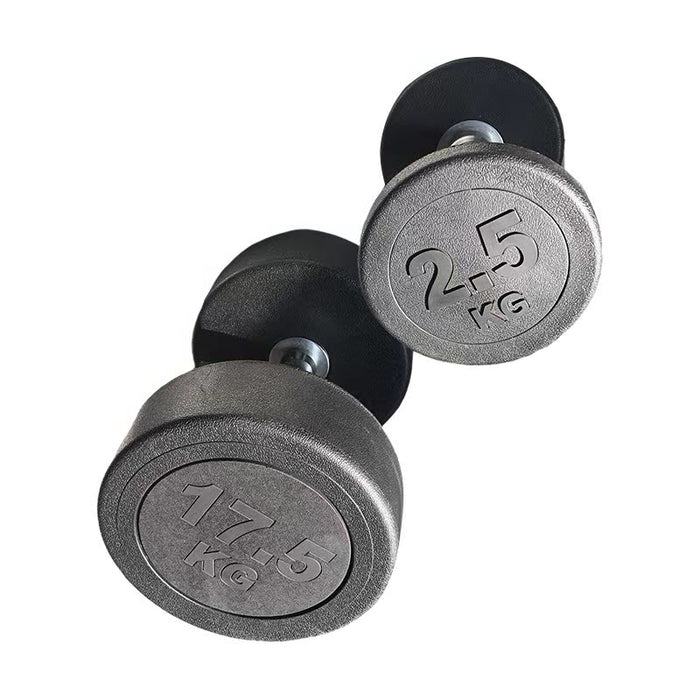 Round Dumbbell 10 kg - Rubber coated 1 pc.
Sold out
Original price
250,00 kr
-
Original price
250,00 kr
Incl. VAT
Dumbbell 10 kg.
The round "ordinary" dumbbells from InnoFitness are cast in metal and vulcanized in rubber. At InnoFitness you get a fantastic, high-quality dumbbell for your gym or for your own training room at home.
Training with ordinary dumbbells is widely used in all gyms, and it is probably the most basic type of training equipment you can think of.
The round dumbbells from InnoFitness have a thick layer of rubber, which secures both the floor and the user, and ensures that the noise in the gym is as low as possible.
(However, we always recommend rubber flooring when training with free weights).
The ergonomic grip and smart design make these dumbbells the preferred dumbbells among many.
The price is for 1 piece. dumbbell.
The dumbbell is made of iron.
Coated with a thick layer of rubber.
Kg on each dumbbell is engraved in the rubber.
Very robust and durable and at the same time protects the floor.
Length of handle: 142 mm
Handle diameter: All dumbbells from 2.5-50 kg are Ø35 mm with non-slip grip.
Stands for the weights can be purchased separately.
The dumbbells fit the stands that we sell for round dumbbells.
The price is based on a kg price of approximately DKK 25 incl. VAT
See prices for specific weight size
The diameter of the round dumbbells is as follows:
| | | |
| --- | --- | --- |
| Dumbbell | Diameter dumbbell | Handle length |
| kg | etc | etc |
| 2.5 | Ø95 | 142 |
| 5 | Ø115 | 142 |
| 7.5 | Ø135 | 142 |
| 10 | Ø145 | 142 |
| 12.5 and 15 | Ø165 | 142 |
| 17.5 | Ø175 | 142 |
| 22.5 to 50 | Ø195 | 142 |
If you want to save a little money or space, we have some really good SNODE adjustable dumbbells , which are far better than the other adjustable dumbbells on the market at the moment.
For questions or comments regarding these round regular dumbbells from InnoFitness, please do not hesitate to contact us.