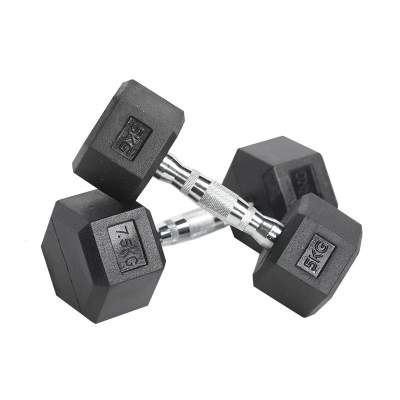 Hex Dumbbell 15 kg - Rubber coated 1 pc.
Sold out
Original price
375,00 kr
-
Original price
375,00 kr
Incl. VAT
Dumbbell 15 kg
Description
Dumbbell Hexagon

The price is for 1 piece.
From 2.5- 50 kg with 2.5 kg intervals. ( See all intervals here )
Material: Good solid design in iron and coated with hard rubber.
This hexagonal shape means that the dumbbell does not roll on the floor.
The price is based on a kg price of approximately DKK 25 incl. VAT, see prices by selecting specific weight size.
This hexagon dumbbell is a very popular dumbbell, and InnoFitness has a large selection of hexagon dumbbells starting from 2.5 kg and all the way up to 50 kg with 2.5 kg intervals.
If you are looking for a robust and good dumbbell, then this type of dumbbell is clearly our favourite.
Stands for Hex dumbbells are available here .
If you want to save a little money or space, we have some really good SNODE adjustable dumbbells , which are far better than the other adjustable dumbbells on the market at the moment.
Do not hesitate to write or call InnoFitness for questions about the hexagon dumbbell.